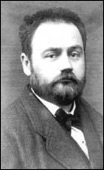 "Ventre de Paris, Dedie à Emile Zola", the title of Mihail Chemiakin's Suite, translates to "The Belly ofParis, Dedicated to Emile Zola". Emile Zola (1840-1902) was an influential French novelist, the most important example of the literary school of Naturalism, and a major figure in the political liberalization of France.
Le Ventre de Paris (1873) is the third novel in Emile Zola's twenty-volume series Les Rougon-Macquart. It is set in and around Les Halles, the enormous, busy central marketplace of 19th Century Paris. The series explores the 'hereditary' influence of violence, alcoholism, and prostitution in two branches of a single family: the respectable Rougons and the disreputable Macquarts, for five generations. Le Ventre de Paris (translated into English under many variant titles, but literally meaning The Belly of Paris) is Zola's first novel centered entirely on the working classes.
Chemiakin, though born

in Moscow, spent ten years living and working in Paris where he attained fame for his involvement in the non-conformist political and art movement and association with various artists, poets, and public figures such as Mikhail Baryshnikov and Vladimir Vysotsky.
Chemiakin produced essays and illustrations to the works of E.T.A. Hoffman and Crime and Punishment by Fyodor M. Dostoevsky in addition to Ventre de Paris.